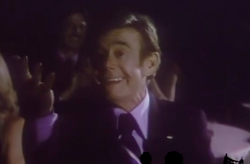 Arthur Godfrey (August 31, 1903 – March 16, 1983) was an American actor, entertainer, and radio and television broadcaster. Known as The Old Redhead Godfrey had a career spanning over 40 years. Godfrey is best known to Mystery Science Theater 3000 fans for his brief appearance playing himself on the Greydon Clark movie Angels Revenge.
Godfrey was noted for playing the ukulele, and this was commented on by Mike Nelson while riffing Angels Revenge.
By the 1950s Godfrey had reached the height of his career but then there was the infamous on-air incident in which he fired performer Julius LaRosa on air. Godfrey later stated this was for having lost his humility. The incident along with several other firings of Godfrey staffers in the following years undermined Godfrey's folksy image and by the 1960s Godfrey had gone from hosting two shows on the CBS network to the occasional guest hosting television job. The riff by Mike about everyone being fired for having no humility is a reference to these incidents.
Godfrey died in 1983 at the age of 78 due to emphysema brought on by decades of smoking as well as the effects of radiation used to treat the emphysema. Godfrey was buried at Union Cemetery in Leesburg, Virginia.
See Also
Ad blocker interference detected!
Wikia is a free-to-use site that makes money from advertising. We have a modified experience for viewers using ad blockers

Wikia is not accessible if you've made further modifications. Remove the custom ad blocker rule(s) and the page will load as expected.