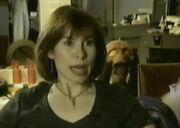 Andrea Jackson Ducane was the longest-working background staffer on the show, having provided make-up and being a hair stylist, which first started in 1992 and she remained as such until the show's cancellation. Ducane also provided make-up and hair styles for Mystery Science Theater 3000: The Movie and 1st Annual Summer Blockbuster Review and also played as an extra during the host segments for Quest of the Delta Knights.
External links
Ad blocker interference detected!
Wikia is a free-to-use site that makes money from advertising. We have a modified experience for viewers using ad blockers

Wikia is not accessible if you've made further modifications. Remove the custom ad blocker rule(s) and the page will load as expected.