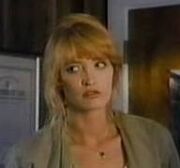 Adrianna Miles (also known as Adrianna Stastny and Adrianna Walsh) played Natalie in Werewolf. She had previously starred in Albert Pyun's Nemesis in 1992.
Since then, her only show business credits are as the writer of 2014 animated feature Dwegons and Leprechauns and executive producer of the not-yet-released film Voyeur.
She works now behind the scenes at Lion's Gate Films, handling intellectual property rights and licensing deals. She is fluent in English, German, Italian, French and Czech.
Ad blocker interference detected!
Wikia is a free-to-use site that makes money from advertising. We have a modified experience for viewers using ad blockers

Wikia is not accessible if you've made further modifications. Remove the custom ad blocker rule(s) and the page will load as expected.